Blend of fragrant botanicals
Suggested Magickal Blends
APHRODISIAC, BALANCE, CHASTITY, COMFORT, COURAGE, HAPPINESS, HARMONY, HEALING, LOVE, MEDITATION, GUARD AGAINST NEGATIVITY, PEACE, POWER, PROTECTION, RITUAL, SELF CONFIDENCE, SOUL'S PASSING, STABILITY, VIRILITY
Fragrant Amber is not a true resin from a tree, but a combination of fragrant herbal powders, resins, and oils.
Below is a list of the botanicals that are often used in the production of Fragrant Amber.
Ambergris,

Ambrette,

Beeswax, Benzoin, Cardamom,

Cedar wood,

Cinnamon, Civet, Copal, Frankincense,

Geranium,

Ginger, Labdanum, Musk,

Myrrh,

Oak moss, Patchouli,

Rose,

Sage, Sandalwood,

Spikenard,

Styrax (Benzoin), Vanilla,

Vetiver, and Ylang-Ylang.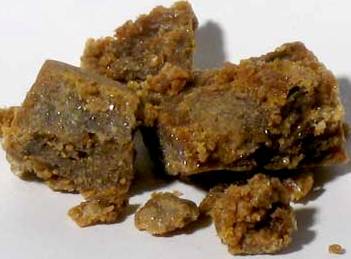 Description
Herbs are sold by the ounce. If more than one ounce is desired, update the quantity in your shopping cart.
Three options are available for herbs. Click the drop-down menu to select between cut & sifted, powdered,
or sample.